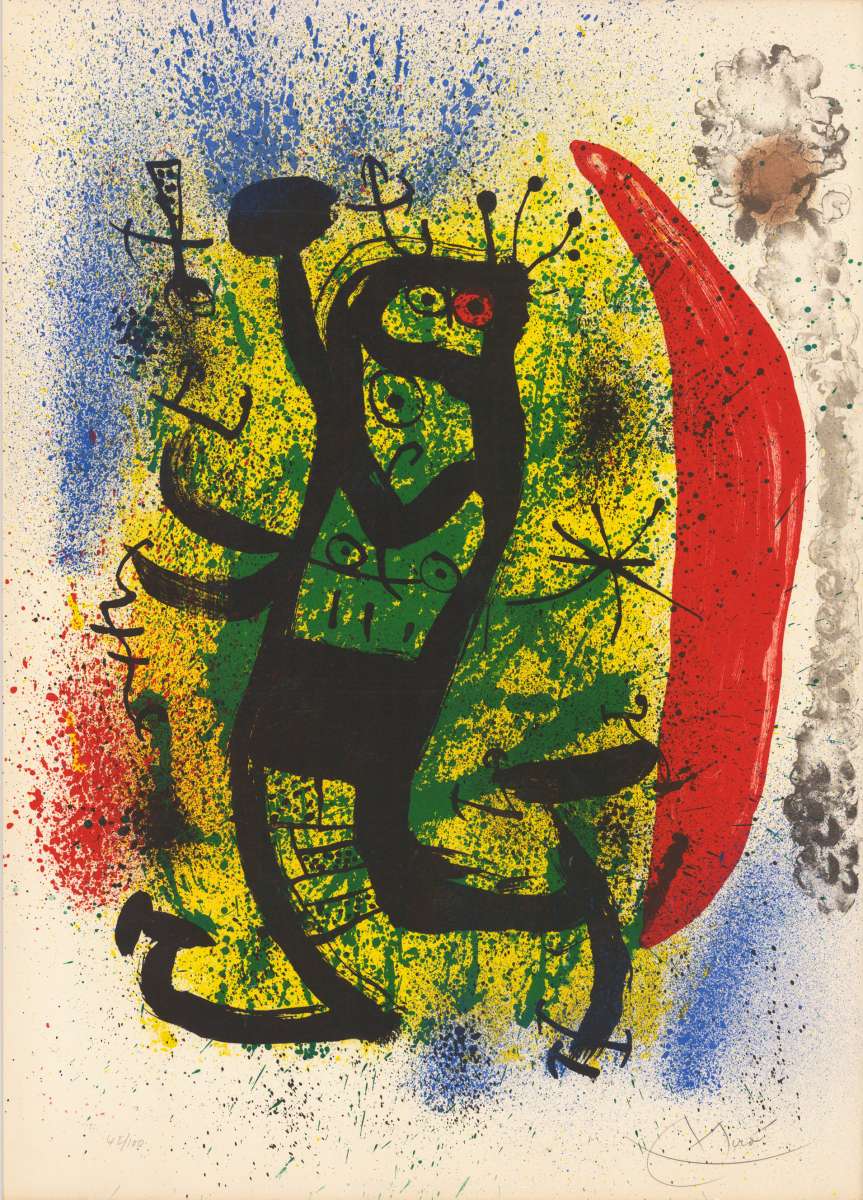 Eigenschaften
Published:

Bern

Published date:

1969

Technique:

Lithograph / Original color

Issue date:

1969

Type:

artwork

Size:

76 x 54,5 cm (30 x 21,5 inches).

Bibliography:

Mourlot 638

Stock number:

36296

Condition:

in excellent condition.
---
Article description
Article description
Original Lithograph. Signed in pencil and numbered 42 / 100 copies. In favor of the Swiss Center for Cancer Research. Printed by Arte Adrien Maeght in Paris. Sheet from the portfolio "Kunst für Forschung", published in Bern in 1970. Joan Miró, the Catalan painter par excellence, was born in Barcelona in 1893 and died 90 years later, on December 25, 1983 in Palma de Mallorca. His homeland should always have great importance in his spirit and in his art, be it through painting, sculpture, engraving or ceramics. With his father, a jeweler, and his mother, a carpenter, he felt at home in a creative world from an early age. Joan Miró first studied economics at his father's urging, before turning his back on this career and instead studying fine arts in evening classes at the La Llotja art school in Barcelona. Deciding to become a painter in 1912, he entered the Galli Academy in Barcelona, directed by Francisco Galli, a trained architect, and there he became acquainted with the major currents and tendencies that were developing in Europe. In his early days, Joan Miró shaped various artistic movements, beginning with Fauvism, followed by Cubism and Expressionism. It was not until he came to Paris in 1919 that he began to develop more artistically and turned to an onirism that was to remain with him forever. There he met and befriended contemporary artists such as Max Jacob, Antonin Artaud, Tristan Tzara and André Masson. A circle of artists in turmoil who will collaborate and break the aesthetic conventions of the time and open themselves to a new language. Having freed himself from his conventional pretensions and methods, Joan Miró will reveal himself in a simplicity of expression. Fascinated by the unconscious, it was only natural that he befriended and approached the Surrealist group in 1924. His new gouache partners were André Breton, Paul Eluard and Philippe Soupault. He was fascinated by her offbeat sense of humour, her playfulness and her provocative spirit. His spontaneity and childlike spirit were given free rein. His association with this movement culminated in 1925 with the "Peinture surréaliste" exhibition. At the Galerie Pierre in Paris, he exhibited his painting "Carnaval d'Harlequin" together with Marx Ernst, Paul Klee and Man Ray, which received an enormous response. Also of note is his 1925 painting La Naissance du Monde (The Birth of the World), which bridges the gap between Joan Miró's Catalan homeland and his Parisian heyday. In 1928, Miró's relationship with the Surrealist movement became more complicated. Gradually, politics mingled among the acolytes and caused great tension until the 1930s. Part of the members loudly professed support for the Communist Party, while the other half preferred to fight through painting. Miró then gradually withdrew and devoted himself mostly to collages, huge sculptures and ceramics. Juan Miró shaped art history with his oil paintings, which are still popular today.
Mourlot 638
---