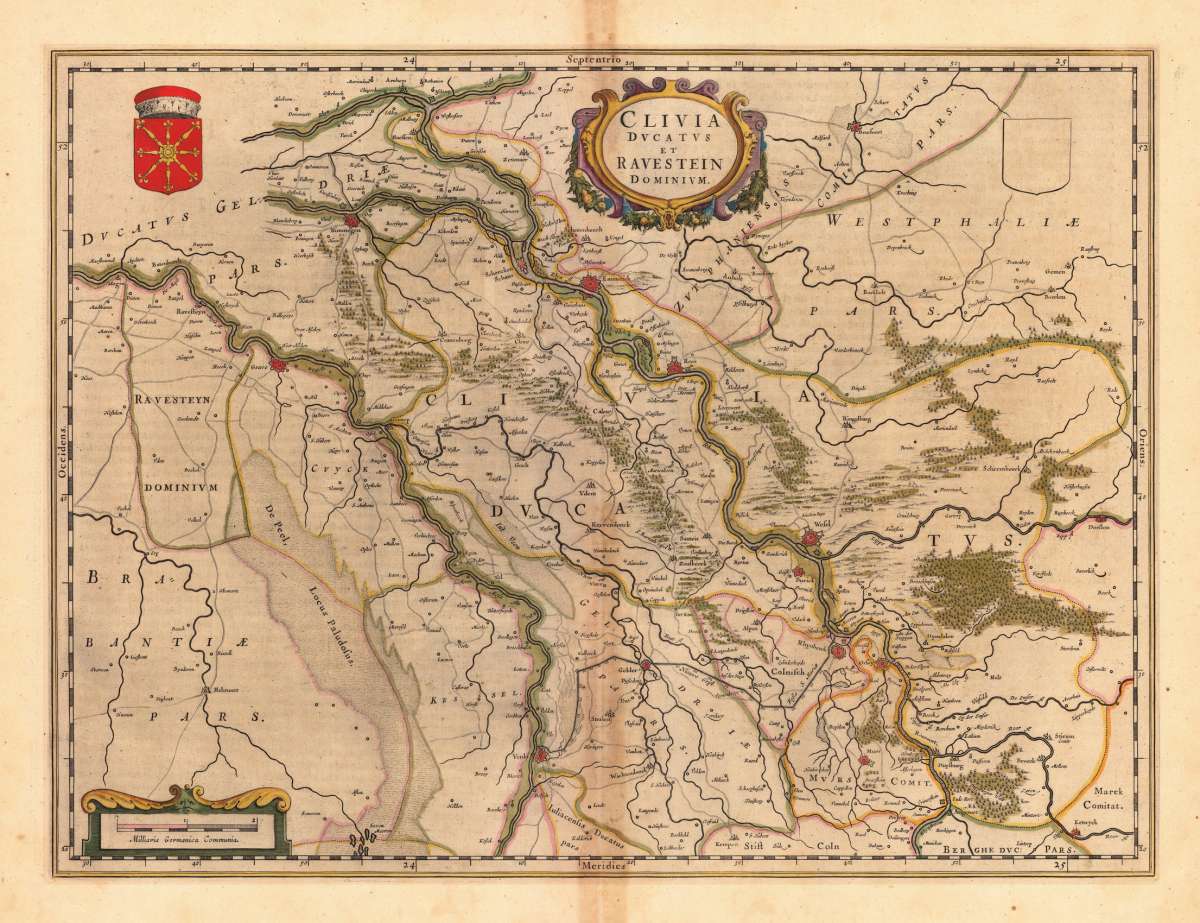 Prices incl. VAT plus shipping costs
This item is sold. Please contact us if you are searching for this item.
Eigenschaften
Published:

Blaeu , Amsterdam

Published date:

1643

Technique:

Copper engraving / Original color.

Type:

Antique Map

Category:

Herzogtum Kleve

Issue date:

1643-50

Size:

382 by 514mm (15 by 20 inches).

Bibliography:

[2370:2] 2:212-3 (1643-50 French text verso).

Stock number:

23390

Condition:

In sehr gutem Erhaltungszustand.
---
Article description
Article description
Original Kupferstichkarte, in zeitgenössischem Grenzkolorit, gedruckt und verlegt 1643-50. Altkolorierte Kupferstichkarte, erschienen im Atlas Blaeu's 'Theatrum'. Oben fast mittig dekorative Rollwerkskartusche mit Titel, sowie im linken oberen Eck ein Wappen und rechts oben ein unausgefuelltes Wappenschild (alle in schönem Altkolorit. Dargestellt wird detailliert das Herzogtum Kleve mit der Grafschaft Ravenstein. Das Kartenbild reicht im Norden von Arnheim bis südlich von Duisburg. Rees fast mittig im Kartenbild. Im Westen mit der zu Brabant benachbarten Grafschaft Ravenstein bishin nach Dorsten a.d. Lippe im Osten. Mit vielen Ortsangaben, eingezeichneten Wegen, der Fossa Eugenia, u.v.m. Karte in dekorativem Grenzkolorit. Tadellos, in gutem bis sehr gutem Erhaltungszustand. Leicht gebräunt im Randbereich des oberen und unteren Mittelbugs. Rückseitig französischer Text. Joan Blaeu (23 September 1596 – 21 December 1673) was a Dutch cartographer born in Alkmaar, the son of cartographer Willem Blaeu. In 1620 he became a doctor of law but he joined the work of his father. In 1635 they published the Atlas Novus (full title: Theatrum orbis terrarum, sive, Atlas novus) in two volumes. Joan and his brother Cornelius took over the studio after their father died in 1638. Joan became the official cartographer of the Dutch East India Company. Blaeu's world map, Nova et Accuratissima Terrarum Orbis Tabula, incorporating the discoveries of Abel Tasman, was published in 1648. This map was revolutionary in that it "depicts the solar system according to the heliocentric theories of Nicolaus Copernicus, which show the earth revolving around the sun.... Although Copernicus's groundbreaking book On the Revolutions of the Spheres had been first printed in 1543, just over a century earlier, Blaeu was the first mapmaker to incorporate this revolutionary heliocentric theory into a map of the world." (Wikipedia)
[2370:2] 2:212-3 (1643-50 French text verso).
---