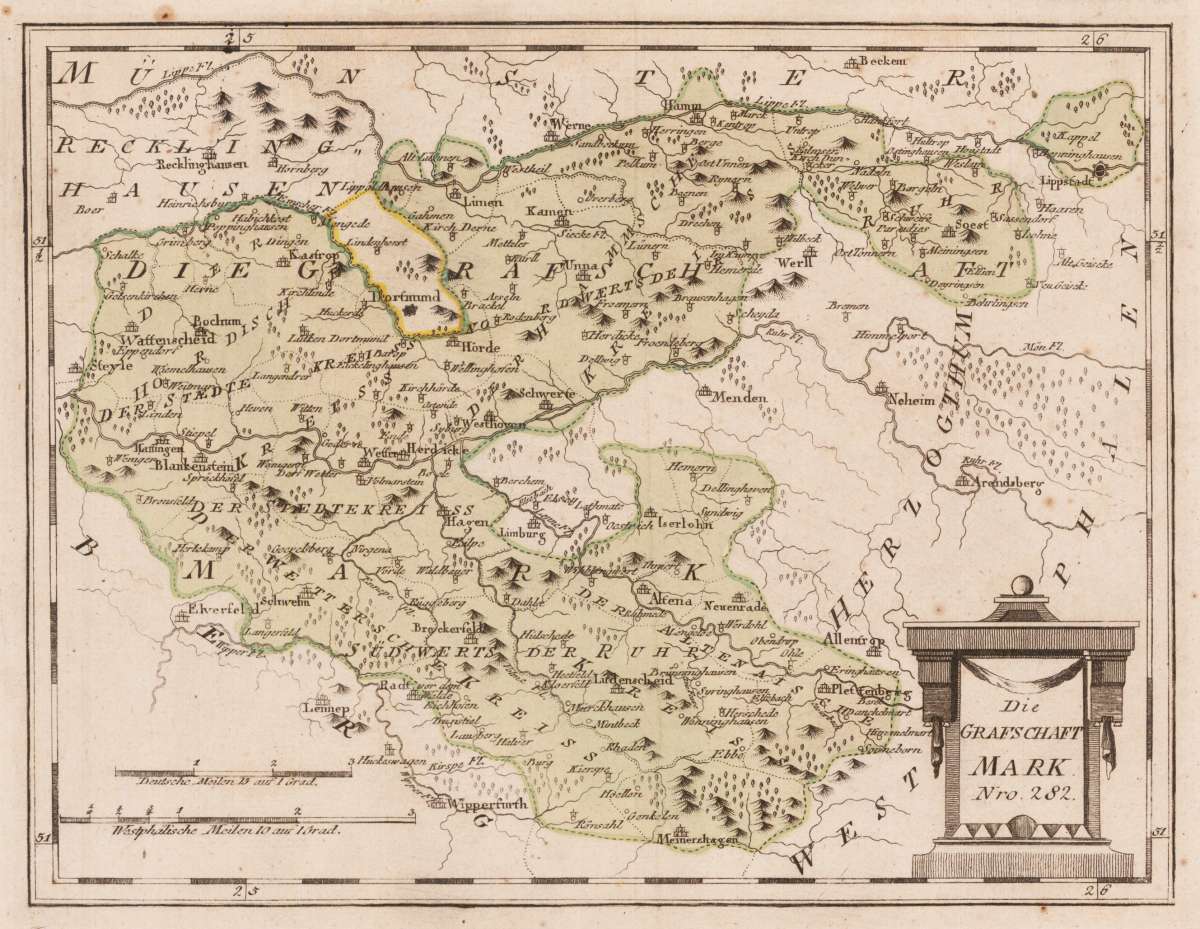 Eigenschaften
Published:

Wien

Published date:

1796

Technique:

Kupferstich, original Kolorit.

Issue date:

1791-96

Category:

Grafschaft Mark

Size:

213 by 276mm (8½ by 10¾ inches).

Stock number:

31898

Condition:

In ausgezeichnetem Erhaltungszustand, mit schalem Rand.
---
Article description
Article description
Original Kupferstich, in zeitgenöss. Flächenkolorit der Zeit. Detaillierte Landkarte der Grafschaft Mark. Im Zentrum das Gebiet Dortmund, Schwerte, Hagen. Im Osten bis Soest und Lippstadt, im Süden noch bis Wipperfurth. Rechts unten mit ornamentaler Kartusche. - Die Grafschaft Mark war ein Territorium des Heiligen Römischen Reiches deutscher Nation im Niederrheinisch-Westfälischen Reichskreis. Sie gehörte seit dem 17. Jahrhundert zu Brandenburg-Preußen. Die Grafschaft erstreckte sich zu beiden Seiten der Ruhr entlang von Volme und Lenne, zwischen dem Vest Recklinghausen, der Freien Reichsstadt Dortmund, dem Fürstbistum Münster, der Grafschaft Limburg, den Herzogtümern Westfalen und Berg, der Grafschaft Gimborn, der Reichsabtei Werden und dem Reichsstift Essen. Die Grafen von der Mark zählten im Hochmittelalter zu den mächtigsten und einflussreichsten westfälischen Regenten im Heiligen Römischen Reich. Ihr Name geht auf ihre Residenz Burg Mark bei dem heute zur Stadt Hamm gehörenden Dorf Mark zurück. Er lebt heute weiter im Namen des Märkischen Kreises und in der geographischen Bezeichnung Märkisches Sauerland (Wikipedia) The Austrian cartographer Franz Joh. Josef von Reilly published around 1789 in Vienna a large amount of very detailed district maps of Central Europe. These maps are famous for their large scales and the many details they provide. Even tiny place names can be found on those maps, rivers, mountains, streets, monasteries are as well engraved. The maps, which Franz J. Reilly engraved, were especially designed for the Austrian Royal house and show countries, provinces and districts belonging to the 'Austrian-Hungarian Empire'.
---