de Fer, Nicolas
L´Asie divisee selin l´etendue de ses principales parties et dont les points Princiaux sont Placez sur les...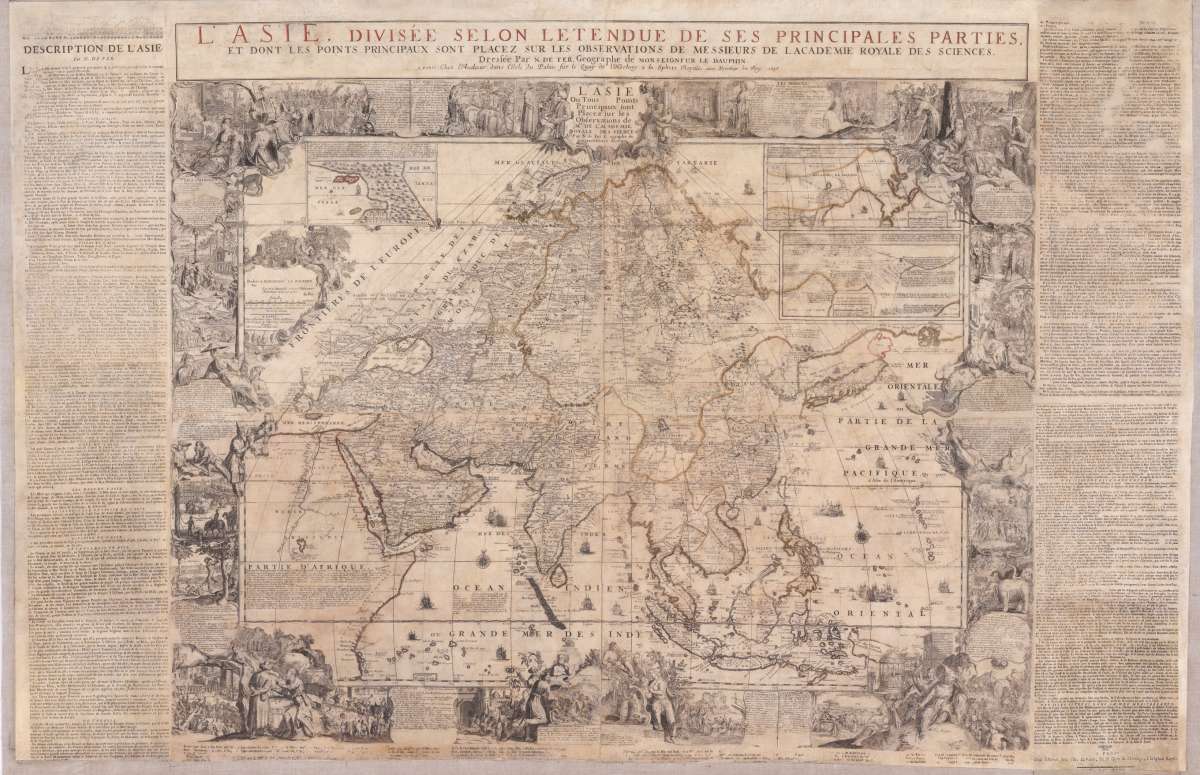 Eigenschaften
Published:

Paris

Published date:

1698

Technique:

Copper engraving / Original color.

Category:

Asia

Type:

map

Issue date:

1696/98

Size:

106 x 157 cm (41.75 x 61,75 inches).

Stock number:

34995

Condition:

A carefully restored example of this rare wall map of Asia. Overall a map in acceptable good condition.
---
Article description
Article description
Original antique copper engraving, hand colored in outline when published. Carefully restored and mounted on linen. This gigant wall map was first published in 1696. Present is here the edition from 1698, the actual map was printed from 4 plates. Additional plates were used for the title text on top of the map and other plates for the printed letter press text around the actual engraved map. This large wall map of Asia is equipped with a decorative title cartouche "L Asie Ou Tous les Points Principaux sont Placez sur les Observations des Mrs. De l Academie Royale des Sciences." The cartouche to the left dedicates the map to Louis of France, Le Grand Dauphin. It is further equipped with lots of decorations, allegorical scenes with inhabitants and animals, plants and memorable landscapes of the various countries in the Asian continent. With these decorative allegoric scenes the cartographer wanted to provide to the viewer of the map information about the culture and the people of these so foreign countries in the world. At the top three inset maps were included: Nova Zembla and the Arctic around Spitzbergen, Tartary and a part of China based on the travels of the Jesuits M. Martini and F. Verbiest in China. The map also nicely depicts India, Sumatra, Indonesia, Thailand, the Phillipines and of course it also gives information on the relativly unexplored Pacific Ocean towards the Larron or Marrian Islands; close to the Moluccos Islands it names,Terre de Papous' and,Nouvelle Zeelande' close together. Also the Phillipines are quite well shown, Manila is named on the map. Of course we find in all parts of the sea compass roses and all sorts of sailing ships, some them with firing canons. Overall large wall maps were mostly used and therefore mounted on linen to display them in a comfortable way. The disadvantage was, that mostly these wall maps have suffered, because they were used too much and moved all the time. Therefore, the overall condition of these oversized maps is usually relatively poor and accompanied by massive signs of wear. Our paper restorer was able to detach the actual map from its old cloth with a lot of work and time and has put it then back on new acid-free cloth. The map also featured older wooden hanging poles, these were reused. Parts of the text have been partially reproduced or supplemented as far as possible. All in all, a wall map was created for further generations, which will now survive today's viewer by many years. Nicolas de Fer (1646 – 25 October 1720) was a French cartographer and geographer. He also was an engraver and publisher. His works focused more on quantity than quality, there were often geographical errors, and they were more artistic than accurate. De Fer was the youngest of three sons of Antoine de Fer, who was also a cartographer. When he was 12, he became the apprentice of Parisian engraver Louis Spirinx, and made his first map, of the Canal du Midi, at the age of 23. After the death of his father in June 1673, his mother Geneviève initially took over the map making company, which had begun to decline. She passed it and the atelier, called Quai de L'Horloge, on to Nicolas in 1687 because of her old age. De Fer was so successful at improving the firm that, in 1690, he became the official geographer to Louis, Dauphin of France. With support from the Spanish and French royal families, de Fer also became official geographer for Philip V and Louis XIV, the kings of Spain and France, respectively.[3][5] Because of this, his maps became Bourbon propaganda, endorsing French King Louis XIV. His business flourished, producing town plans, atlases, wall maps, and more than 600 sheet maps. He made maps of places in Europe and North America, including New Spain,places fortified by Vauban,the Low Countries, and the War of the Spanish Succession. In 1698, de Fer published a map of North America, which included a depiction of beavers building dams near Niagara Falls. Seventeen years later, Herman Moll published a map which plagiarized elements of de Fer's work, particularly the beaver scene. It became known as the "Beaver map". De Fer became the official geographer for The King of Spain in 1720. Two of his sons-in-law, Guillaume Danet and Jaques-François Bénard, continued the company after de Fer's death on 25 October of that year until around 1760 (Wikipedia).
---