Coronelli, Vincenzo Maria
Terre Artiche descritte Dal P.M. Coronelli M.C. Cosmografo della Sereniß. Republica di Venetia. Dedicate .. .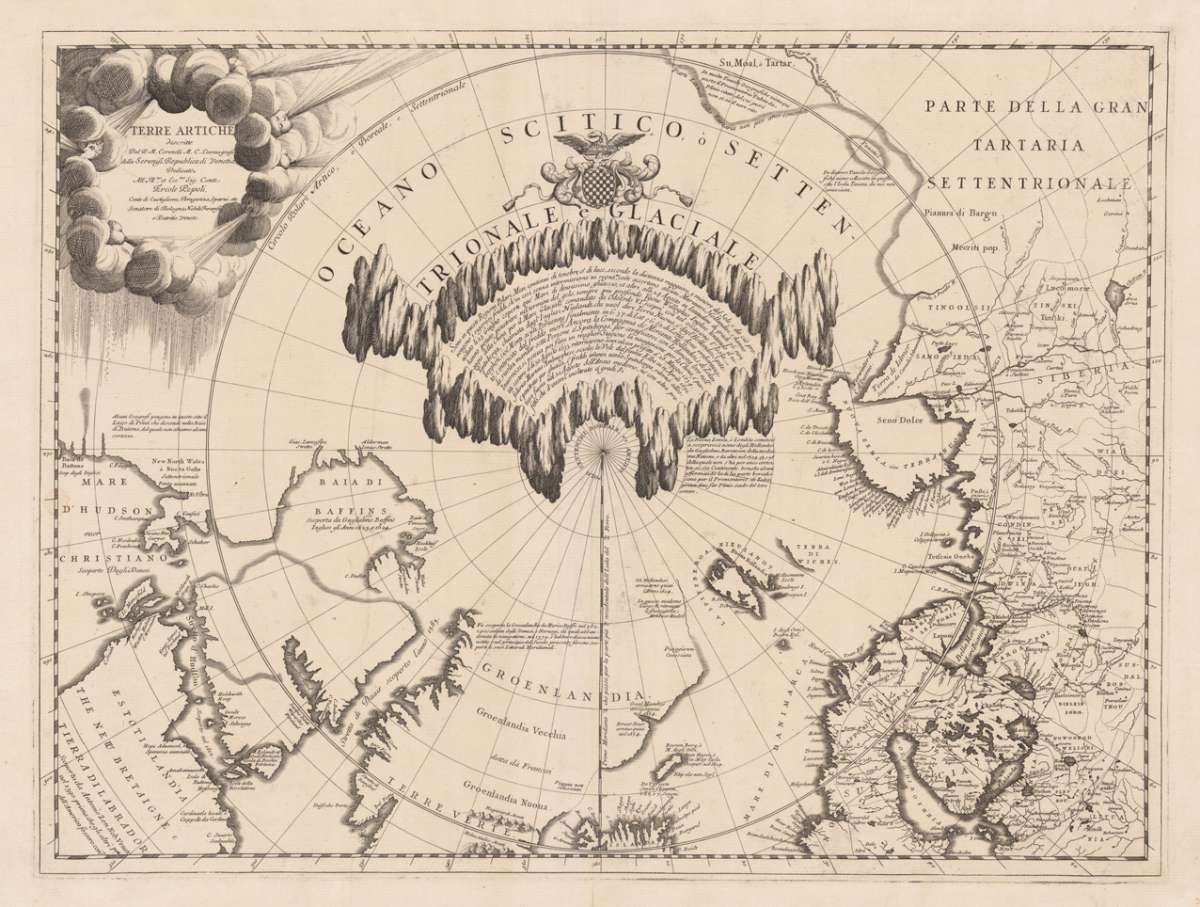 Eigenschaften
Published:

V. Coronelli , Venice

Published date:

1700

Type:

Antique Map, map

Technique:

Copper engraving / Uncolored

Issue date:

1700

Category:

North Polar Projection

Size:

455 by 605mm (18 by 23¾ inches).

Stock number:

17292

Condition:

A strong impression in excellent condition.
---
Article description
Article description
Fine copper-engraving, uncolored as published. Large and detailled engraved map showing the North Pol, Greenland, the Baffins Bay with parts of Canada, as well parts of northern Europe, Nova Zembla and areas of the northern Tartary. In the upper left corner is a title cartouche, ornated with wind blowing heads, as well the North Pol regions are decorative engraved in the centre of the map. Various dates of discoveries and explorations are engraved in the map. The map contains many details like small villages or cities, rivers, mountains and details on the coast lines with small islands and bays. Vincenzo Coronelli, exceedingly successful in publishing his atlases 'Isolario' and the 'Atlante Veneto', worked also for Louis XIV and had therefore in France access to the newest cartographic informations.
Vincenzo Maria (or Marco) Coronelli (born August 16, 1650 in Venice, † December 9, 1718 there) was a famous cartographer, cosmographer and manufacturer of globes.
Coronelli was born the son of a tailor and completed an apprenticeship as a carpenter. In 1665 he joined the Franciscan Minorites and went to the monastery of San Nicoletto. At the age of 16 he published a perpetual calendar. In Rome he studied theology, mathematics and cosmography, in 1673 he received his doctorate in theology. He then became a religious provincial in Venice.
In 1678 he went to Parma and became secretary to Duke Ranuccio II Farnese. He created a pair of globes for him with a diameter of 175 cm, which has not been preserved. From 1681 to 1683 he made the Coronelli globes, a terrestrial and a celestial globe, with a diameter of 384 cm for the French King Louis XIV. Today they are in the possession of the French National Library, in the entrance area of ​​the Bibliothèque François-Mitterrand.
In 1684 he returned to Venice. That year Coronelli founded the world's first geographical society, the Accademia cosmografica degli argonauti, chaired by the Doge Marcantonio Giustinian. In 1685 he was appointed cosmographer of the Republic of Venice. In 1693 his society already had 261 members, including the Polish King Jan III. Sobieski. He traveled to Paris again to create miniaturized replicas of the globes with Jean Baptiste Nolin. The smallest had a diameter of 8.5 cm and served as travel globes, while larger ones could be dismantled.
In 1691 he published the Atlante Veneto in Venice, a work of 200 maps with detailed descriptions in the format 60 × 40 cm. In 1692 and 1694 he published his two-volume main geographical work, the Corso geografico universale, ó sia la terra divisa nelle sue parti, consisting of 260 maps in the format 40.5 × 51 cm. From 1696 to 1697 he continued the Atlante Veneto with his Isolario, which was dedicated to the Mediterranean. In 1696 he traveled through the empire to London.
Vincenzo Maria Coronelli also created the first encyclopedia in Italian; the Biblioteca universale sacro-profana. It appeared in Venice, but remained incomplete. Originally set up to 45 volumes with 350,000 keywords, only the first seven volumes (A-Caque) with 35,000 keywords were published. The first, Pope Clement XI, appeared in 1701. dedicated band. In the end, Coronelli had a print run of 40,000 copies. The 700 to 800-page volumes were published between 1701 and 1709 by the Venetian printer A. Tivani. The work is considered a model for the French encyclopedists.
From 1701 to 1704 Coronelli was General of the Order of the Minorites, but after he had left the Papal State against papal instructions, Pope Clement XI. deposed, even if he was allowed to hold the title for another three years. Now that he has finally returned to Venice, in addition to the Procuratori di S. Marco (Venice 1705), a history of this institution from the Middle Ages to the present, he published a Cronologia universale (1707), which lists the most important events since 4000 BC. Performed. Then 27 of the planned 45 volumes of the Teatro della guerra appeared between 1706 and 1709; they contained about 2000 tablets. Gli Ordini religiosi ed equestri, a work on religious and chivalric orders, was also incomplete. Three volumes were published between 1707 and 1715.
1717 he was by Emperor Karl VI. Appointed to Vienna to develop plans for the regulation of the Danube. He received the title of Commissario Perpetuo del Danubio. In 1718 Coronelli returned to Venice, where he died at his desk on December 9, 1718. His possessions were dispersed and the Accademia degli Argonauti did not survive its founder for long. (Wikipedia)
---