Jaillot, Alexis-Hubert.
Estat et Seigneurie de l Eves. De Lyege ou sont les Comtes de Hasbain, de Lootz et de Horn.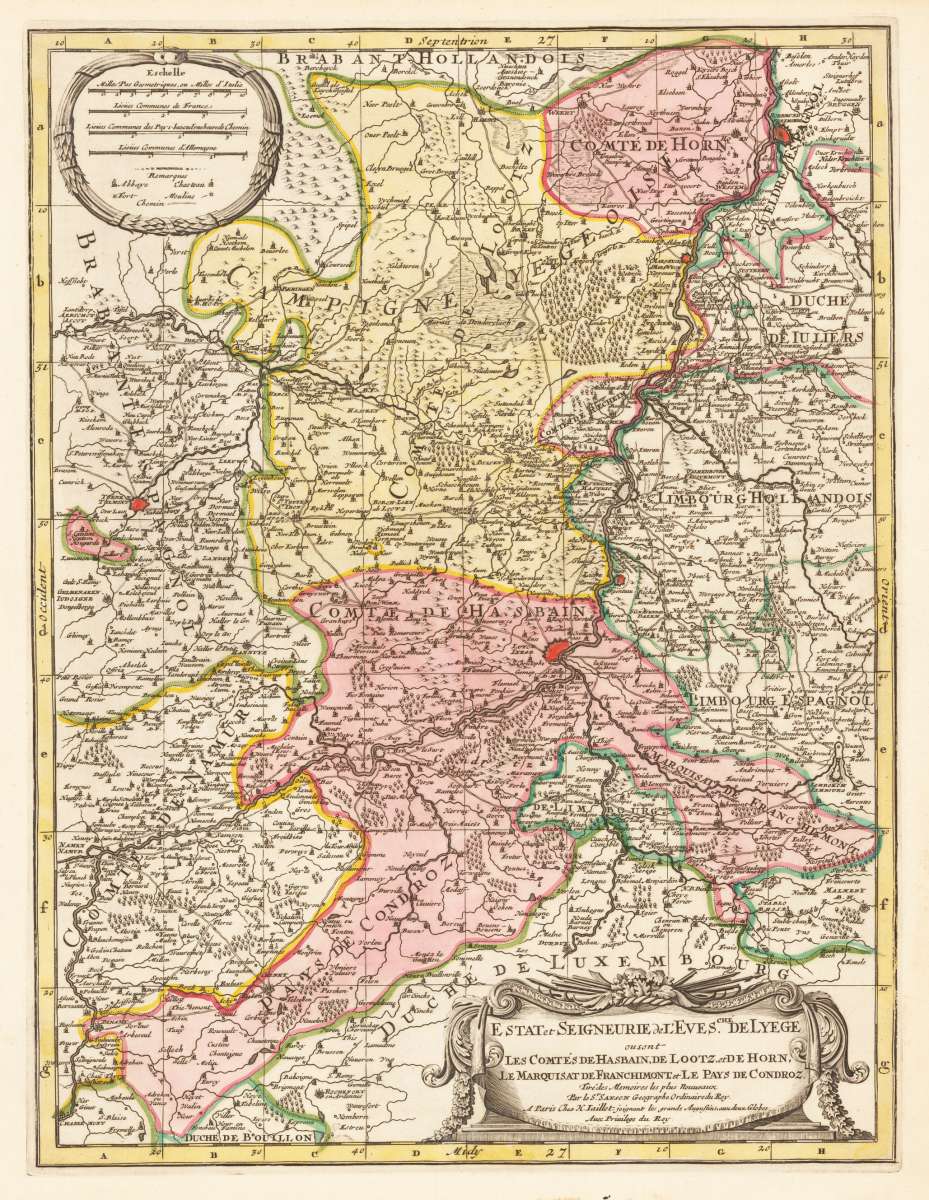 Eigenschaften
Published:

Paris

Published date:

1692

Category:

Belgium

Issue date:

1692

Type:

map

Technique:

Copper engraving / hand colored.

Size:

56 x 42,8 cm (22 x 16,75 inches).

Bibliography:

KOEMAN: Mor 1.

Stock number:

33606

Condition:

In excellent condition.
---
Article description
Article description
Original antique copper engraving, hand colored in outline and wash when published. A large and decorative map from Mortier's issue of Jaillot's 'Atlas Nouveau', with fine baroque title and scale cartouches. Alexis Hubert Jaillot (* approx. 1632 in Avignon-lès-Saint-Claude, Free County of Burgundy; † November 2, 1712 in Paris) was an important French cartographer and publisher. Alexis Hubert Jaillot was born in Avignon-lès-Saint-Claude around 1632. His parents were Jean Jaillot and Etiennette Fournier. His brother was Pierre-Simón (1631-23 September 1681). Jaillot married on January 11, 1665 Jeanne Berey († November 1, 1675), the daughter of the engraver and map publisher Nicolas I Berey (1610-1665) from Paris. From this marriage there were seven children, including François Hubert-Joseph (* 1671) and Bernard Jean-Hyacinthe (* February 11, 1673-1739). After the death of his first wife, he married Charlotte Orbane on April 26, 1676. Eight children emerged from this marriage, including Charles-Hubert (* 1678). Jaillot's year of birth is assumed to be 1632, because his death certificate stated his age as 80 years. [1] The place of birth was Avignon-lès-Saint-Claude, at that time a small hamlet in the exclave of the Free County of Burgundy, which was part of the Spanish kingdom. Jaillot had a good talent for arts and design from childhood. He learned sculpture from his brother Pierre-Simón. As a result of Franco-Spanish conflicts, their hometown was devastated, and so the two brothers went to Paris in 1657. There they soon gained a certain reputation and the title Sculpteur du Roy. In 1665 Jaillot married into the Berey family of map publishers. After the death of his brother-in-law Nicolas II Berey (1640–1667) he bought the Berey card collection from his sister-in-law. This gave him a valuable foundation that he could market straight away without ever having made a map himself. Jaillot entered the card business at an opportune moment. In early 1668, Louis XIV won the first of his Reunion Wars, and a period began when France was constantly expanding its territory. There was a great demand for maps depicting the French triumphs and the new frontiers, as well as upcoming expansion plans. Jaillot's map collection also included printing plates that Pierre Duval (1619–1683) (nephew of Nicolas Sanson) had created and originally sold to Nicolas Berey. But Duval, who also mislaid his cards himself, resisted the re-edition of his old cards. At the height of the dispute with Duval, Jaillot won Nicolas Sanson's sons Guillaume and Adrien in late 1670 as card makers and business partners. With them he was able to market new cards with the prestigious name Sansons. His first atlas of 1681, Atlas Nouveau, became such a great commercial success that other publishers began selling plagiarism. Jaillot sought royal patronage and dedicated many of his card editions to the king. Finally, on July 20, 1686, he was appointed Géographe du Roy and received an annual pension of 600 livres. This title, together with protectionist and controlling legislation, allowed him to successfully defend himself against his plagiarists. Since the early 18th century, Jaillot issued fewer and fewer cards. There was more and more demand for maps that were updated in real time and he was less and less able to react to the demands of the market. Younger competitors were well-trained geographers like Guillaume Delisle, who could do the mapping themselves. Over time, Jaillot passed the business on to his son Bernard Jean-Hyacinthe. Alexis Hubert Jaillot died in Paris on November 2, 1712, at the age of 80. He was buried in the Convent des Grands-Augustins. (Wikipedia)
KOEMAN: Mor 1.
---