Homann, Johann Baptist
S.R.I. Circulus Rhenanus Inferior sive Electorum Rheni complectens tres Archiepiscopatus, Moguntinum Coloniensem et...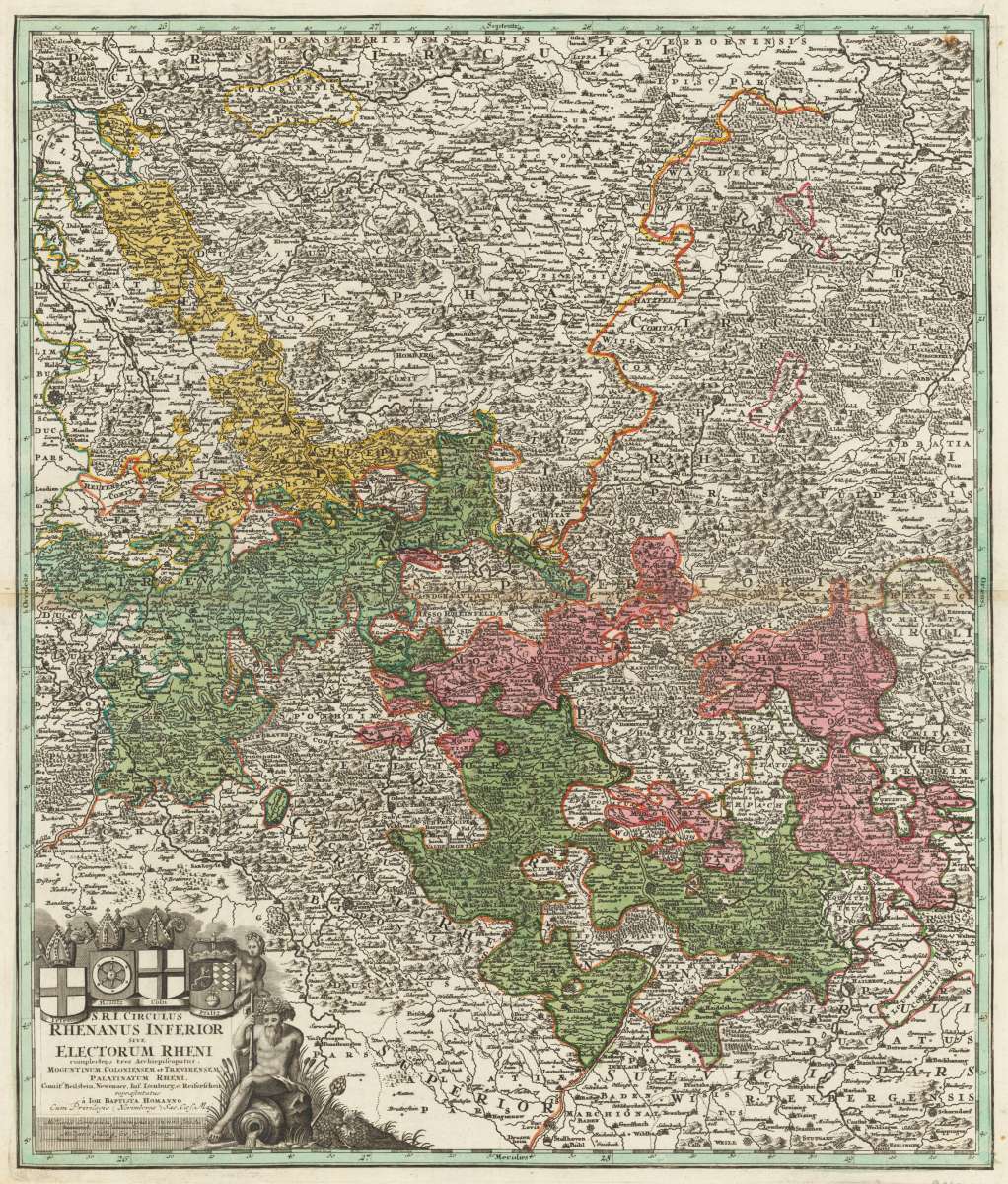 Eigenschaften
Published:

Nürnberg

Published date:

1720

Technique:

Copper engraving / Original color.

Issue date:

1720

Category:

Mosel & Rhine Circles

Type:

map

Size:

568 by 482mm (22¼ by 19 inches).

Stock number:

32685

Condition:

In excellent condition.
---
Article description
Article description
Copper engraving, hand colored in outline and wash when published. A detailed map of Lower Rhine region. The title cartouche in the upper left quadrant features four heraldic crests, each representing a major city: Trier, Maintz, Coln, Pfaltz. Follows the course of the Rhine from Wessel to Seltz. Includes the cities of Frankfurt, Wesel, Stuttgart, Heidelberg, Mühllheim, Trier, Mainz, Köln and the Pfaltz. The map details fortified cities, villages, roads, bridges, forests, castles and topography. Johann Baptist Homann (* 20. März 1664 in Oberkammlach, heute Teil von Kammlach im Landkreis Unterallgäu; † 1. Juli 1724 in Nürnberg) war ein deutscher Kartograph, Verleger, Kupferstecher und fertigte Globen. Das Geburtsdatum von Johann Baptist (Baptista) Homann war lange Zeit nicht sicher zu ermitteln. Eine amtliche Bestätigung, die sein Vater eingeholt hatte, fand sich im Staatsarchiv Nürnberg. Durch sie ist das Geburtsdatum 20. März 1664 eindeutig belegt. Homann wurde zunächst in einer Jesuitenschule erzogen und doch wollte er Dominikaner werden. Letztlich aber trat er zum Protestantismus über und wurde 1687 Notar in Nürnberg. Bald jedoch wandte er sich dem Kupfer- und Landkartenstich zu. Von 1693 bis 1695 war er in Wien, dann wieder in Nürnberg und um 1698 stach er Landkarten in Leipzig. Im Jahr 1702 gründete er einen Handel und einen Verlag für Kartographie in Nürnberg, der zahlreiche Globen und Karten publizierte. Die Karten Homanns wurden in verschiedenen Atlanten kombiniert, aber auch einzeln verkauft. Homann lieferte etwa 200 Karten, darunter den Großen Atlas über die ganze Welt in 126 Blättern (1716) und den Atlas methodicus (1719) in 18 Blättern. Bekannt wurde seine Phantasiekarte accurata tabulae utopiae vom Schlaraffenland nach der fiktiven Reisebeschreibung Johann Andreas Schnebelin († 1706). Daneben fertigte er auch Armillarsphären und andere mechanische Kunstwerke. Die Karten Weihnachtsflut in Niederdeutschland (1717), Herzogtümer Bremen und Verden und Umgebungsplan von Bremen mit einer Stadtansicht (um 1720) stammen von ihm. Homann unterbot die Preise der holländischen und französischen Verleger und wurde im Deutschland des 18. Jahrhunderts der bedeutendste Herausgeber von Landkarten und Atlanten. Seine Karten waren mit reichem künstlerischem Beiwerk sowie historischen und ethnographischen Abbildungen ausgestattet. Im Jahr 1715 wurde Homann zum Mitglied der Königlichen Akademie der Wissenschaften zu Berlin gewählt und auch zum kaiserlichen Geographen am Hof Karls VI. ernannt. Er arbeitete sehr eng mit dem schon damals bekannten Nürnberger Kupferstecher Christoph Weigel (1654–1725) zusammen. Sein Kleiner Atlas scholasticus von 18 Charten von 1710 war accomodirt durch den Leipziger Schulbuchautor Johann Hübner (1668–1731) und der 1719 herausgebrachte Atlas methodicus war nach Hübnerischer Lehrart eingerichtet. Johann Baptist Homann starb am 1. Juli 1724. Sein Unternehmen ging auf seinen Sohn Johann Christoph Homann (1703–1730) über. Dieser starb jedoch bereits sechs Jahre später. Er hatte seine beiden Geschäftsführer, Johann Georg Ebersberger (oder Ebersperger) und Johann Michael Franz zu Erben der Handlung eingesetzt. Nach seinem Tod wurde das Unternehmen unter dem Namen "Homanns Erben" (auch "Homannsche Erben" oder "Homännische Erben", franz. Heritiers de Homann, lat. Homannianos Heredes) fortgeführt. In der Mitte des 18. Jahrhunderts waren weiterhin renommierte Gelehrte wie z. B. Johann Michael Franz, Tobias Mayer, Johann Gabriel Doppelmayr, Georg Moritz Lowitz, Johann Hübner und Johann Gottfried Gregorii für das Unternehmen tätig. Die lange und wechselvolle Erfolgsgeschichte des Branchenprimus endete erst 1848 mit dem Tod des letzten Besitzers Christoph Franz Fembo. Eine Büste des Johann Baptist Homann fand Aufstellung in der Ruhmeshalle in München. Die Büste wurde 1944 zerstört und bislang nicht restauriert oder nachgebildet. Heute erinnert eine Gedenktafel daran.
---